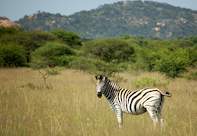 © Matt Artz
Zebra in Polokwane Game Reserve.
This capital city of Limpopo is a busy and modern city which enjoys a strategic location in the north, 3 hours from Johannesburg, 2 hours from Kruger National Park and en route to game and tourist attractions in all directions.
Polokwane experiences fine weather year round. Its rich culture and history is evident everywhere with the many monuments, sculptures and museums.
Polokwane, Limpopo, South Africa
Meropa Entertainment World and Casino in Polokwane offers a variety of attractions and facilities for all round fun. There is a Cultural Fair and Market with fabulous art and craft, an Amphitheatre, Magic-Speedway for go carting, Mini-Golf, as well as wildlife encounters.
The WildThingz Garden has a Bird and Reptile Park, insectarium and Butterfly Park. The butterflies are all indigenous making this a unique world first.
The Bird of Prey Centre in this Limpopo city has many species including the fastest - the Peregrine Falcon.
At The Ranch Hotel and Conservancy south of Polokwane, visitors can get to walk with lions, one of only a few places in the world. Here visitors will find excellent resort facilities and a famous pride of lions. This ranch conservancy also rehabilitates injured wildlife.
The Polokwane Game Reserve on the edge of the city has 21 game species including the White Rhino. Visitors to this game reserve in Limpopo province, South Africa, can enjoy game drives, excellent walks and hikes in a reserve that has an aloe forest and unique vegetation not found anywhere else worldwide.
Polokwane has numerous historic attractions and a fascinating history. Just outside the city is Makapan's Valley, a beautiful area rich with discovery. Makapan's Valley, a National Heritage Site, contains caves where sediments, fossils, bones and artefacts dating back more than 3 million years have been found.
This beautiful Limpopo area has a great diversity of life and reflects the unfolding of human and animal habitation through time. For a great day out the Magoebaskloof region just 1 hour's drive east of Polokwane is a beautiful mountainous area with much to offer.
Visitors to this area in Limpopo, South Africa, can enjoy the friendly village atmosphere (Haenertsburg), indigenous forests, waterfalls, birdlife and even see rare Samango Monkeys that thrive in this environment. Scrumptious foods, interesting crafts and products and much more can be found here.
Adventure activities are offered like Canopy tours for enthusiasts to really experience flying through the treetops from platforms high in the forest via a harness and pulley system. Ebenezer Dam is a great place for watersports, tubing and picnics.
Also in the vicinity of Polokwane is the Modjadji Nature Reserve and Kingdom of the Rain Queen. The reserve in Limpopo province has the biggest concentration of single cycad species on the planet and fabulous walks on well constructed walk ways from which resident wildlife can be viewed. The Modjadji tribe is a matriarchal society surrounded by legends and mystery.
Things to See and Do in Polokwane
Shopping and entertainment
Meropa Entertainment World and Casino
Middestad Centre for shops and eateries
Savannah Mall for shops and cafés
Farmyard Trading Post for the whole family
Barnyard Theatre
Art and craft centres
Attractions and sightseeing
Many historic buildings and sculptures in the city
Polokwane Art Museum
Hugh Exton Photographic Museum
Bakone Malapa Northern Sotho Open-Air Museum
Polokwane Museum and Voortrekker Monument
Eersteling Monuments
Concentration Camp Cemetery
Library Gardens and art gallery
Zion City at Moria
San Rock Art sites
Nature Reserves and conservancies
Animal encounters
Polokwane Game Reserve
Crocodile farm
Moletzie Bird Sanctuary
Polokwane Bird and Reptile Park
The Ranch Hotel and resort: Lion walks and tours, game drives, horse riding
Adventure
Hiking, mountain biking, horse riding - Polokwane
Paintball - Polokwane and Magoebaskloof
Canopy tours, hiking, watersports also white water tubing - Magoebaskloof
Quad biking, horse riding, mountain biking, abseiling - Magoebaskloof
Day trips
Magoebaskloof - fantastic hikes and scenery, tea estates, adventure sports
Modjadji Cycad Reserve - pre-historic forest of cycads and excellent walks
Wolkberg Wilderness - great scenery and rain forest, hikes, rock climbing
Makapan's Valley - incredible caves with exciting fossils finds
Waterberg Biosphere - Big Five game reserves and parks, malaria free