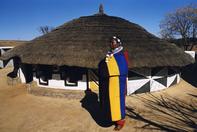 © Peter Magubane
Pedi cultural home.
Apart from its rich wildlife heritage and scenic brilliance, the Great North is known for its historic wealth and cultural haunts. The people of this land settled here centuries ago and form part of a striking colorful mosaic every tourist should experience.
The Pedi people, a great nation of African descent, shaped their homeland centuries ago in the east, a place rich in platinum. They adapted to the harsh landscapes of this area that formed their lifestyle and traditions. A great change gave rise to the lives of the indigenous tribes when the Voortrekkers arrived - European settlers from the Cape looking to start a new life in the wilderness of this remote area.
The 'invasion' of the Pedi territory by Europeans led to hopeless conflict and resulted in bloody battles. The history of the Limpopo Province is filled with events of settlement and conflict, war and peace. The statue of the well known Long Tom cannon that can be seen in Haenertsberg is a silent symbolic representation of the battles fought on and for this land, specifically the Anglo-Boer War.
With the European settlers came the missionaries, inspired by the courage of the Christian faith, they brought Western houses of education and beliefs to the indigenous people of the land.
Those pioneers who propelled further to the north discovered the highly tillable soil and scorching temperate climate accommodated their agricultural, and later industrial, lifestyle. Their culture has birthed a rich foreign magnitude to the African plains already hosting fascinating blends of African cultures from as far as Central Africa.