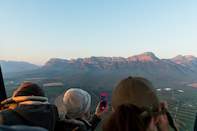 © Shem Compion
Hot Air Ballooning above Hoedspruit, Limpopo.
This Limpopo Travel guide lists the main towns of Limpopo in South Africa, including Polokwane which is the capital city.
Makhado
Makhado is a town in complete harmony with its beautiful surroundings. A densely populated town on highly fertile area. Its streets and gardens flourish with trees and flowers. Makhado is an ideal base to explore the Soutpansberg. There are several Limpopo accommodation options here. The town also boasts creative arts and crafts from local talents, whose art works make it to shelves around the country.
Bela-Bela
Formerly known as Warmbaths has a sunny and pleasant climate. It owes it overall temperature to the hot mineral springs protruding of the earth; this water is rich in minerals. Its location and year round tourist-friendly climate contributes to it being a popular holiday destination. Bela-Bela is the gateway to Gauteng and Waterberg. The region also has a wealth of conference venues, restaurants, and accommodation and recreation facilities.
Hoedspruit
Hoedspruit is the gateway to several game lodges and reserves in South Africa. It has access to Timbavati Game Reserve and the Kruger National Park, thus making this town the hub for tourists visiting the Kruger National Park. It is surrounded by game-rich countryside with a beautiful rural charm. Tourist attractions focus on safaris and Big Five activities, as well as hikes, birding, research centers and parks.
Haenertsburg
The land of lush greenery and majestic valleys. Haenertsburg looks like a tiny piece of Austria.  It is a small village, perfect for a peaceful retreat. Dams, Hiking trails, museums, quaint cafes and adventurous nature activities are some of the things you can indulge in, while exploring this part of Limpopo, South Africa.
Lephalale (Ellisras)
Lephalale is a busy town on the west of the Mogol River in the foothill of the Waterburg Range. The town is known for its active coal mining industry and the largest dry-cooled power station, Matimba. It is a popular place for game and bird viewing and adventurous walking trails. Lephalale is also a meeting point for hunters and cave explorers.
Phalaborwa
The Limpopo town of Phalaborwa is one of South Africa's youngest towns. There is no real distinction between winter and summer here. Phalaborwa is less than 2km from Kruger National Park; therefore the wildlife viewing and safari activities in this town are endless. It is the only town where night drives into Kruger National Park are available. Phalaborwa is also an excellent place for golfing, horse riding and mine tours
Polokwane (Pietersburg)
Polowane is the capital of Limpopo, and like most capitals it has an array of entertainment, adventure activities, accommodation and plenty more to offer the visitor. It is the capital of the Limpopo Province and is ideally situated near South Africa's neigbouring countries, Mozambique, Swaziland, Botswana and Zimbabwe. Polokwane is also within convenient reach of the world famous Kruger National Park. With this much opportunity, Polokwane is the perfect base to explore neighbouring countries and the great wildlife of South Africa via the Kruger National Park.
Tzaneen
Tzaneen is Limpopo's second largest town, it sits at the foot of the impressive Wolkberg Mountains. Within reach there are captivating archaeological sites, strong baobab trees, Africa's great wildlife and nature reserves. Tzaneen extends to the visitor a change of scenery at virtually every turn of the road. Apart from diverse scenery, Tzaneen is a popular town amongst campers and anglers. The Tzaneen Dam Nature Reserve attracts explorers from far and wide. The town also has a museum that's worth a visit!