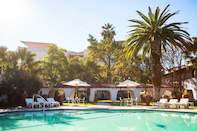 Garden Court Polokwane Hotel.
Limpopo has a diverse range of holiday accommodation, from affordable guesthouses to luxury safari lodges. Whatever your requirements are, you are sure to find a place to stay in Limpopo that is best suited for you.
Safari Accommodation in Limpopo
Safari accommodation in Limpopo is nestled in South Africa's most scenic wildlife reserves, and lodges in these areas promises fascinating game viewing and safari activities. Safari accommodation in Limpopo ranges from adventurous rest camps to luxury five star safari lodges. It is possible to host events in these lodges as well, some have modern conference venues and offer excellent service.
Safari destinations are also popular with honeymooners and family adventure holidays. So if you looking for the ideal place in Limpopo for an adventure holiday, a corporate function or wedding celebrations, safari lodges are a great place to start.
Limpopo Guesthouses
Relax in a tranquil environment with friendly faces and hospitable service. These are guesthouses in Limpopo. They are your home away from home. Guesthouses are becoming quite popular. They offer friendly, efficient and more personalized service.
There are several guesthouses scattered across the Limpopo Province. This way you are spoilt for choice, you are free to choose what location and accommodation suits you best. Guesthouses tucked away in scenic nature reserves or guesthouses conveniently located close to city centers and other modern conveniences.
Most guesthouses in Limpopo are family-friendly, and are great alternative to hotels for a more family focused holiday.
Hotels in Limpopo
There is a range of hotels in Limpopo, concentrated in the Provincial Capital, Polokwane, Tzaneen and the northern part of the Kruger National Area. These hotels are luxurious and offer guests superior accommodation in great locations. It is perfect for business travelers and holidaymakers.
Most of the hotels are fully equipped with modern conveniences and offer a range of services. Chauffeur, tours, conference facilities, wedding venues, in-house bars and restaurants and plenty more. Hotels in Limpopo are an ideal choice for business executives and holidaymakers.