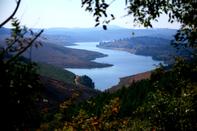 © Jacques Marais
Magoebaskloof hiking trail in Limpopo.
Limpopo province in South Africa has a geographical location which offers a world of adventure, nature and wildlife opportunities.
The Province borders Mozambique, Zimbabwe and Botswana and also the world famous Kruger National Park. The diverse nature, manmade attractions and year round tourist-friendly weather have all contributed to Limpopo being a popular destination.
The Schoemansdal Voortrekker Town and Museum
West of Louis Trichardt, is The Schoemansdal Voortrekker Town and Museum. It is built on the site of an authentic Voortrekker village and reflects their lifestyle in the mid-18th century.
Mapungubwe Cultural Landscape
Mapungubwe, once a city is now the northern part of South Africa. Flourishing from the Shashe and Limpopo rivers from 1050AD to 1270AD, it commemorated the center of a pre-Shona kingdom which extended to parts of modern-day Zimbabwe and Botswana. The actual site of the city today is a World Heritage site, archaeological site and national park. The Mapungubwe Landscape was announced a World Heritage Site in 2003.
Golf Courses in Limpopo
In Phalaborwa, you will find one of South Africa's top-rated golf courses. It is excellent for advanced and beginner players. The golf estates have modern facilities and equipments and also first class golf accommodation in Limpopo. Keep your eyes opened for animals on the fairways!
Ecotourism Areas
Experience exotic ecosystems, observe wildlife and just enjoy an authentic African adventure. The Thabazimbi area is one of the fastest growing ecotourism districts in South Africa, due to its outstanding wildlife game reserves. This is definitely worth a visit!
Bela-Bela
The town of Bela-Bela is a great place to explore hot springs, fantastic scenery and fun slides. Bela-Bela, formerly Warmbaths is a well known place among South Africans, and is increasingly popular with tourists.
Nature
Nestled in the splendid Waterberg Mountain Range of Limpopo, the Waterberg District is the perfect getaway where the restless and adventurous traveller can relax and revel in the magnificent natural beauty of the bushveld savannah and its abundant wildlife heritage.
The Waterberg Range has a wealth of indigenous trees, springs, streams, bird life, wetlands and dramatic vistas.
Caves and Fossils
The Mokopane, formerly Potgietersrus vicinity has various nature reserves. The Arend Dieperink Museum has a great cultural-historical collection, and the Makapan Caves are renowned for their fossils. The caves are an ideal place for the explorer and the fossils offer an eye to untold worlds and times.