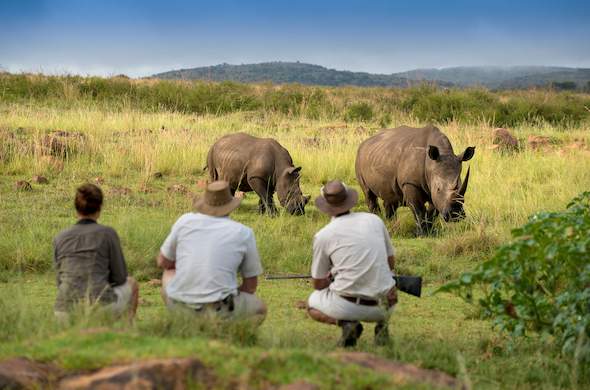 Walking safari at Mhondoro Game Lodge in Limpopo.
This Limpopo travel guide offers a variety of activities and things to do in Limpopo, which guests can enjoy while on holiday in South Africa.
Wildlife Walking Safaris
South Africa on the whole has some of the best walking safari trails in the world and due to the geographical location of the Province of Limpopo. Walking trails in this region offer hikers a world of discovery and adventure. Walk through the rivers and valleys, the lakes and streams, discover caves and hidden treasures of the north.
Self hikes can be done (preferably with a group) or you can participate in one of the many guided walking safaris available through Limpopo safari lodges and wildlife camp sites. Whatever you anticipate, a walking safari in Limpopo is bound to satisfy your thirst for adventure.
Trout Fishing
Limpopo has endless rivers and lakes that are abundant in fish. Game fish, chars and salmon are common here. Fishing in Limpopo is a great activity for families and small groups. The river areas and lakes are safe and offer a sport-friendly environment. So while you busy playing catch and release, kids can easily keep themselves busy in play areas or learning about the fascinating nature of these areas.
Willdife Rehabilitation Centres
If you have any interest at all, in wildlife and injured species. Limpopo has several rehabilitation centers for animals that will be an educating experience for any traveler. Young and old. There are facilities across the province focusing on wildlife rehabilitation and environmental education. Daily tours are available, and schools and families will find this a worthwhile thing to do.
Outdoor Adventure Activities
Limpopo is packed with fun-filled things to do for the adventure traveler. Hiking, fishing, hunting, safaris, rock climbing, river rafting and much much more. Due to great weather all year round, Limpopo remains a popular destination for adventure holidays in South Africa.
Golfing
Golfing in Limpopo, South Africa has never been better! The province has first class 18-hole golf courses surrounded by lush greenery. The golf courses here are a perfect place for business and pleasure. The golf estates have excellent conferencing facilities, restaurants, modern equipment and some even offer recognized golf lessons.
Game Viewing
Game viewing opportunities abound in Limpopo. The Kruger Park and some of the best private game reserves in South Africa can be found in the Limpopo province. Limpopo safaris let guests experience the Big Five animals first hand. Game drives by expert local guides provide guests with amazing photographic opportunities.