Limpopo Hotel Accommodation

Limpopo hotels in South Africa range from lavish country inns to wildlife reserve resort hotels. Let our Destination Specialists help you find the perfect Limpopo accommodation for you holiday or business trip.

Limpopo mirrors the quintessence of untamed Africa, ancient baobabs guarding vast expanses of mountains and bushveld, big game and culture.


Mapungubwe World Heritage Site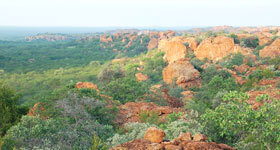 Limpopo's second greatest attraction is the Mapungubwe. This World Heritage Site is a very important Stone Age site that led to the discovery of an Iron Age metropolis. Go on tours of the sites as well as other activities in the Mapungubwe National Park.
Kruger National Park
On Limpopo's eastern side is the Kruger National Park - Over one million hectares in size, and boasts the 'Big Five'. Limpopo Hotels offer you an opportunity to do safari game drives and bush walks.

Top 5 things to do and places to see